Themes
* This feature requires the professional edition.

A theme defines the layout and styles of the chm file. The Word-2-CHM installer comes with two themes, default theme and MSDN style theme. You may choose and configure the themes by click the

 button.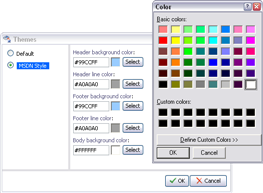 Themes are in the sub-folder "Themes" of Word-2-CHM installation folder. By default, it is "C:\Program Files\Macrobject\Word-2-CHM 2009\Themes". Word-2-CHM Theme is based-on the XML and Nuva scripting language. You may create your own theme and copy it to this folder.
Related Topics