Using Command-Line
1. Opening a help topic via a topic path
hh.exe  ms-its:d:\temp\doc\word-2-chm manual.chm::/_9.htm
Or
hh.exe  mk:@MSITStore:d:\temp\doc\word-2-chm manual.chm::/_9.htm
The mk:@MSITStore protocol works with IE3 and above while ms-its works with IE4 and above. You can get the topic path of a topic by right click on its page and select the "Properties" item.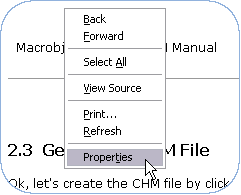 The "Address" showed on the popup dialog is the topic path.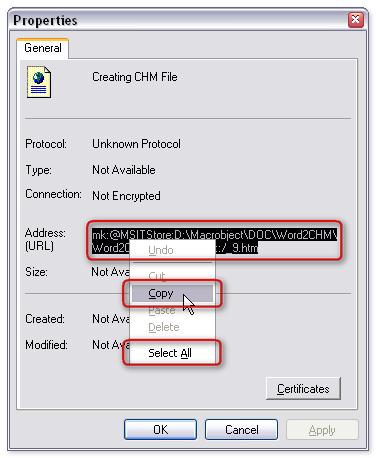 Right click the URL, "Select All", and right click again to copy it.
2. Opening a help topic via a help Id (Pro Edition only)
hh.exe  -mapid  1010  ms-its:d:\temp\doc\word-2-chm manual.chm
The help id of a topic is created automatically. Please see "Using Html Help API" for details.
Related Topics