To create a Web Site quickly, please follow the steps in quick start:  Create Web Site.
To change the detailed features and appearance settings, select the Web Help tab as the activate tab.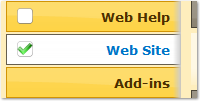 Help Authoring Suite includes three build-in templates for creating Web Help/Web Document files: 

Default template:  See screenshot and quick reference
Each template has 8 themes.  To change the template or the theme, please refer to Web Help – Template/Theme.  For other options, please see sub-topics.